Obama's plan to help the middle class: how it might affect you
A tax credit here and an expanded program there are part of Obama's new plan to relieve financial stress on the middle class. Among the beneficiaries, if Congress goes along: families with children in child care, college students, and workers without employer-sponsored retirement programs.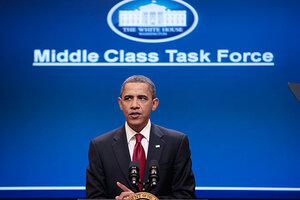 Charles Dharapak/AP
President Obama's new plans to help the middle class are not sweeping initiatives. They would not create big new government programs or thousands of jobs. By Washington standards, they're fairly cheap.
But the president's moves could provide a small boost for millions of Americans struggling to pay for care for children or elderly relatives, college, and retirement.
"We ... need to reverse the overall erosion in middle-class security so that, when this economy does come back, working Americans are free to pursue their dreams again," said Mr. Obama Monday at a meeting of the administration's Middle Class Task Force.
The White House billed the moves as a preview of an effort that will be expanded upon in the State of the Union address on Jan. 27 and the full report of the task force, set for release in February.
But a fact sheet released Monday outlined some specifics about how the ideas would work.
Child care. The administration is proposing to nearly double the child-care tax credit for families whose income is less than $85,000 a year. For those folks, the percentage of child-care expenses eligible for reimbursement via the credit would rise from today's 20 percent to 35 percent.
In dollar terms, the maximum credit for a two-child family making, say, $80,000 a year, would increase from $1,200 to $2,100. That's a $900 benefit.
Families with incomes up to $115,000 a year would be eligible for at least some increase in their child-care tax credit, on a sliding scale.
---