Geithner defends AIG bailout against critics of both parties
Treasury Secretary Timothy Geithner says the government 'made the best of a set of terrible choices' in bailing out insurance giant AIG. But Democrats and Republicans alike hammered him for not demanding more from financial institutions.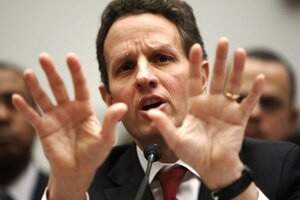 Pablo Martinez Monsivais/AP
A congressional hearing designed to shed light on troubling aspects of the AIG bailout may have done the opposite – airing the case that public officials had little choice other than their wholesale rescue of the insurance giant.
Treasury Secretary Tim Geithner told the House Oversight and Government Reform Committee Wednesday that the government "made the best of a set of terrible choices" in the fall of 2008, bailing out AIG when the alternative was to watch the whole economy tank.
Others spoke at the hearing, but the most compelling case against Mr. Geithner's assertion was a tentative one. Neil Barofsky, the official watchdog over the Treasury's Troubled Asset Relief Program (TARP), said the Federal Reserve could have "just tried a little harder" in its efforts to get AIG's creditors to accept some losses on their investments in the troubled company.
Mr. Barofsky said that greater efforts at moral suasion – telling banks such as Goldman Sachs to accept some losses for the good of the country – might have saved taxpayers some money as the bailout began. But he acknowledged that "we just don't know the answer."
---