How Scott Rothstein rode $1.2 billion Ponzi scheme to wealth and power
Scott Rothstein pleaded guilty Wednesday to a $1.2 billion Ponzi scheme that helped support a flamboyant lifestyle and powerful political connections in south Florida.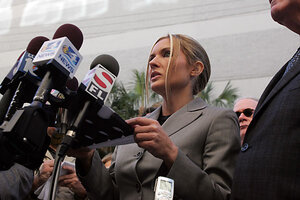 Amy Beth Bennett/Sun Sentinel/AP
Among the high-flying lawyers in South Florida, Scott Rothstein always tried to fly a little higher, move a little faster, shine a little brighter.
It wasn't enough to drive a vintage 1967 red Corvette convertible. He also had a red Ferrari F-40 coupe, red Ferrari F430 Spider, yellow Mercedes SLR McLaren, black Bugatti Veyron, blue-gray Maserati, and a 2010 white Lamborghini.
On other days, Rothstein settled for his white Bentley or one of the Rolls Royces, silver or blue.
That was before federal agents revealed last fall that one of Fort Lauderdale's most flamboyant residents was living a giant lie.
On Wednesday, Mr. Rothstein appeared in the federal courthouse here, a few blocks from his now-shuttered law office, and pleaded guilty to running a $1.2 billion Ponzi scheme from 2005 to 2009.
He is charged with five counts of federal racketeering, money laundering, and wire fraud, and faces up to life in prison.
---