Bernanke vote: Bipartisan Senate support is key
Federal Reserve Chairman Ben Bernanke has come under fire for his support of the Wall Street bailout. But Thursday's Bernanke vote is also expected to reveal that he enjoys bipartisan support in the Senate.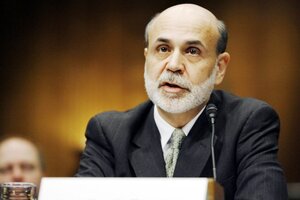 Jose Luis Magana/AP
Fed Chairman Ben Bernanke may win a second term because many US senators believe that rejecting him would lead to dangerous uncertainty in America's financial markets.
In essence, worry about the nation's economic future trumps anger about actions the Fed may have taken – or not taken – in the past, said some Bernanke supporters in Senate debate prior to an expected Thursday vote on his reappointment.
Failing to reconfirm Mr. Bernanke "might be temporarily satisfying to some, but it wouldn't help a single business add jobs, or a single family stay in their homes," said Sen. Charles Schumer (D) of New York, a Senate Finance Committee member, during debate.
Bernanke has been widely credited with helping the world avoid a financial catastrophe last fall. He made the Fed the lender of last resort for US banks and other financial institutions, and did so quickly and with great creativity, according to his Senate proponents.
"He allowed the Fed to become the lender of the nation. Nobody had ever done that.... He deserves credit for having been willing and courageous enough to have made these types of decisions," said Sen. Judd Gregg (R) of New Hampshire on Thursday.
But Bernanke has also angered many lawmakers and taxpayers with his support of bailouts for Wall Street. In particular, his actions in regard to the $182 billion rescue of insurance giant American International Group have come under intense scrutiny in Congress.
---