Corporations' cyber security under widespread attack, survey finds
A survey of IT executives at corporations in 14 countries finds that more than half have seen 'high-level' attacks on their firms' computer systems. Even so, budgets for cyber security and IT have been cut in recent years, two-thirds of the respondents say.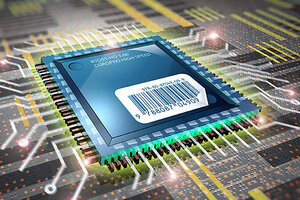 Photo Illustration by Simon Chavez/dpa/Newscom
Around the world, corporations' computer networks and control systems are under "repeated cyberattack, often from high-level adversaries like foreign nation-states," according to a new global survey of information technology executives.
The attacks include run-of-the-mill viruses and other "malware" that routinely strike corporate defenses, but also actions by "high-level" adversaries such as "organized crime, terrorists, or nation states," a first-time global survey by the Center for Strategic and International Studies (CSIS) in Washington has found. More than half of the 600 IT managers surveyed, who operate critical infrastructure in 14 countries, reported that their systems have been hit by such "high-level" attacks, the survey concludes.
A large majority, 59 percent, said they believed that foreign governments or their affiliates had already been involved in such attacks or in efforts to infiltrate important infrastructure – such as refineries, electric utilities, and banks – in their countries.
Such attacks, the survey said, include sophisticated denial-of-service attacks, in which an attacker tries to so overwhelm a corporate network with requests that the network grinds to a halt.
But they also include efforts to infiltrate a company. Fifty-four percent of the IT executives said their companies' networks had been targets of stealth attacks in which infiltration was the intent. In two-thirds of those cases, the IT managers surveyed said company operations had been harmed.
---