Toyota recall: Did rapid growth hurt the carmaker's quality?
The company's growth pressured the automaker's resources, while its achievements led to complacency, some say. Now, the Toyota recall is spreading across the globe.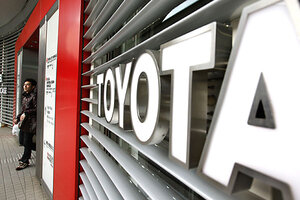 Shizuo Kambayashi/AP
In 2002, Fujio Cho, then president of Toyota, announced Global Vision 2010 – Toyota's ambitious goal to capture 15 percent of the global auto market and become the No. 1 carmaker in the world by this year.
The company has achieved part of that goal. Although it hasn't captured 15 percent of global market share, Toyota surpassed General Motors two years ago to become the world's largest carmaker.
But, as Toyota's recalls and sales suspensions spread across the globe, some consumers are asking, at what cost? Did Toyota's drive for rapid expansion cost the carmaker its reputation for quality?
"It's obvious that they were looking at incredible expansion," says Aaron Bragman, research analyst at IHS Global Insight. "They were pursuing growth at the expense of quality. And now Toyota is paying a price for it."
Another former Toyota president, Katsuaki Watanabe (who is now vice chairman), acknowledged these issues well before now. In a 2008 speech to Japan's National Press Club, he said that Toyota was falling victim to "big company disease" – arrogance and complacency brought on by the car company's rise to the top.
"The fact that Toyota is growing globally suddenly shouldn't be used as an excuse [for problems]," Mr. Watanabe said, according to the Associated Press.
Toyota's very success contributed to some of its failures, some say.
---