Obama's spirited Q&A with House Republicans
President Obama met with House Republicans at their annual retreat in Baltimore. GOP lawmakers asked pointed questions and Obama pushed back. But overall, the meeting was civil and substantive.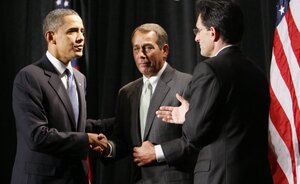 Charles Dharapak/AP
For nearly 90 minutes Friday afternoon, President Obama engaged House Republicans at their annual retreat in Baltimore, responding to pointed questions from his legislative opponents with a mixture of conciliation, confrontation, humor, and irritation.
It's not clear that many minds were changed during the session, which was opened to television cameras at White House request. Several Republican legislators' questions were posed in the form of mini-speeches. Mr. Obama sometimes responded with a professorial recitation of the details of both Democratic and Republican proposals.
But overall, the interchange was lively, civil, and substantive. Reporters in the room said the audience murmured in polite disagreement on a few occasions but not in a disruptive way. There were no partisan outbursts. Midway through the question-and-answer session the president said, "I'm having fun."
'We need to listen to each other'
Republican House leader John Boehner invited the president to attend and introduced him by saying those in Washington "need to listen to each other."
---
Follow Stories Like This
Get the Monitor stories you care about delivered to your inbox.