Obama's NYC terror trial switch: Pragmatism or indecisiveness?
The Obama administration says it won't hold the trial of Khalid Sheikh Mohammed and other Al Qaeda suspects in Manhattan after all, mainly because of security costs and community backlash. But to some, it's another political misstep.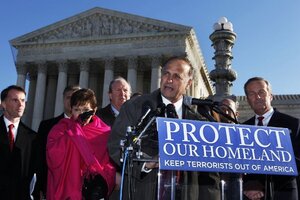 Manuel Balce Ceneta/AP
The positive symbolism of American-style justice – bringing 9/11 terror suspects back to the scene of the crime – marked the Obama administration's bold decision last year to try the suspects in lower Manhattan, just five blocks from where the twin towers fell.

But the cost and practical reality of trying accused mastermind Khalid Sheikh Mohammed and four other alleged Al Qaeda lieutenants in New York City proved, in the end, too large a burden. The Obama administration on Friday acknowledged that it has abandoned Lower Manhattan idea and is looking for other sites in New York.

The administration says it's making a pragmatic move and is sticking by its basic and most important premise: To try the men in a US civilian court instead of in a military tribunal.

But how the seemingly inevitable cost and security scenario escaped the administration in the first place is a key question, and one that gives both supporters and critics a clue into how the president and his cabinet shapes and makes decisions.
Pragmatism – or indecision?
---