Toyota recall: Are sticky gas pedals the real culprit?
Federal investigators are looking at Toyota's electronic throttle system as a possible cause for the sudden acceleration that has led to a global recall. Toyota insists sticky gas pedals are the problem.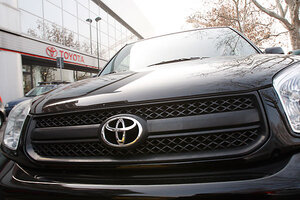 Luca Bruno / AP
As Toyota rolls out fixes for sticky gas pedals, the automaker is coming under scrutiny from federal investigators who say the faulty pedals are not the only cause of sudden acceleration.
Electronic defects may also have contributed to the problem, say investigators and independent safety experts. Federal safety regulators have begun an investigation into Toyota's electronic throttle control system, which connects the accelerator pedal to the engine via sensors that send electric signals, rather than a mechanical cable.
"It's not just sticking gas pedals," says Byron Bloch, an independent auto safety expert. "Toyota, which does a pretty good job in many ways, made a bad decision when they went to electronic throttle control. They should have adopted more safety measures and they didn't. And their customers and company are suffering as a result."
Toyota maintains that its electronic throttle control system is not to blame.
"Through many investigations over a period of many years, Toyota has never found a problem with the electronic throttle control system that could lead to unintended acceleration," says Brian Lyons, safety and quality communications manager at Toyota, USA. "The results of those investigations recently have indicated pedal entrapment and sticky pedal [are to blame]."
Doubts about cause
---