Florida shark attack a great white? Probably not, says researcher
Some biologists say the shark that killed a Florida kite-surfer on Thursday was probably a great white. But a leading shark expert says among the handful of sharks large enough to kill a man, the great white is the least likely culprit in the latest attack.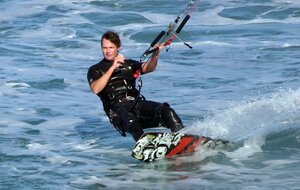 Chris Shultz/The Stuart News/AP
Stephen Schafer, a Florida kite-surfer was killed by what some news outlets are claiming was a "swarm" of great white sharks about a quarter mile off Stuart Beach in Martin County Florida.
Bitten multiple times and having tried to fend off his attacker or attackers, he still had the strength to try to make it to shore. Daniel Lund, the life-guard who noticed a kite-surfer apparently in distress about 500 yards offshore and launched himself into the water with his rescue board, said he noticed a number of sharks in the vicinity when he reached Mr. Schafer.
The rare fatal attack has prompted a flurry of speculation in the media on the culprit, with much of the early analysis pointing towards the great white, the cold-water favoring species that can reach lengths of more than 15 feet.
But George Burgess, who runs the Florida Program for Shark Research and helps run the International Shark Attack File, an online database of shark attacks, disagrees.
Speaking by cell phone while driving down to examine Schafer's wounds to determine what species was responsible for the attack, he cautioned against jumping to early conclusions as to species or whether one or more sharks were involved.
---