Impeached ex-Illinois governor Blagojevich faces new charges
An expanded set of indictments in Rod Blagojevich's corruption case involves 'honest services fraud' under a controversial federal law. It makes it easier for prosecutors, but the US Supreme Court may strike it down.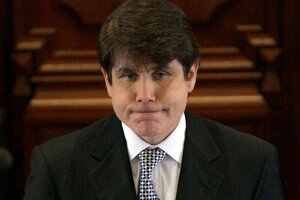 Jeff Roberson/AP/File
Impeached Illinois Gov. Rod Blagojevich received a redrafted and expanded set of indictments Thursday as federal prosecutors sought to eliminate wording that has to do with a judicial statute prosecutors hoped would help their case but that the US Supreme Court may soon strike down.
Mr. Blagojevich was first indicted in April 2009; he was charged with 16 counts of corruption including racketeering conspiracy, wire fraud, extortion conspiracy, attempted extortion, and making false statements to federal agents. His trial is scheduled to start in June.
The new indictment contains new language pertaining to honest services fraud, a federal statute passed by Congress in 1988 and meant to help prosecutors in creating an image of impropriety without needing to prove the tangible benefits.
Honest services fraud has long been a friend to prosecutors working in cases involving white-collar criminals or politicians because its language casts a wide net as to what constitutes gratuity.
Could vague language lead to prosecutorial mischief?
Some complain its vague language allows for a range of prosecutorial mischief. Earlier this year the high court suggested it would consider overturning the statute – Justice Antonin Scalia said it was so vague it could be used for prosecuting "a mayor for using the prestige of his office to get a table at a restaurant without a reservation."
The Supreme Court is expected to review the case sometime in the next three months.
---