Paulson's 'On the Brink': Seven revelations about US financial crisis
In his account of managing America's financial crisis, former Treasury Secretary Henry Paulson recounts shock, disappointment, and own shortcomings. What lessons does 'On the Brink' hold?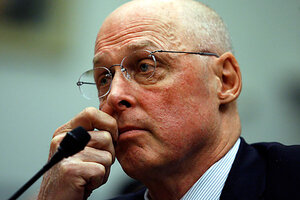 Jose Luis Magana / Reuters
This week America is getting it's first in-depth peek inside the financial crisis, as told by one of the principals on the US government's firefighting team.
"On the Brink" is the first-person account of Henry Paulson, President Bush's secretary of the Treasury at the time when Bear Stearns was rescued, Lehman Brothers wasn't, and the TARP bailout fund was created. Federal Reserve Chairman Ben Bernanke and Timothy Geithner, who was then president of the Fed's regional bank in New York City, are still in crisis-fighting positions and have not written books about their actions in 2008.
What lessons does the book hold? Perhaps a few that remain relevant for the current occupant of the Oval Office, President Obama. Here are seven that aren't necessarily conclusions Mr. Paulson himself draws, but they're framed from what he reports in his book, "On the Brink: Inside the Race to Stop the Collapse of the Global Financial System."
---