Experts rule out 'great white' in Florida shark attack
The shark that killed a kite surfer in Florida Wednesday was one of several possible species, scientists say. Teeth marks will help them identify the attacker.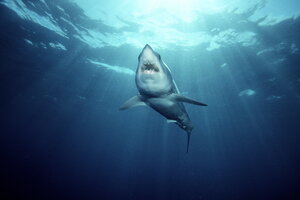 Newscom
Scientists have not yet conclusively identified the species of shark responsible for a fatal attack on a kite surfer off a Stuart, Fla., beach, but they have ruled out any involvement by a great white shark.
Some media reports speculated that a group of white sharks might have attacked the kiteboarder on Wednesday. Florida-based shark experts say the reports were based on an apparent misquote and media hype.

"Our investigation definitively indicates it was not a great white shark," George Burgess, director of shark research at the Florida Museum of Natural History, said on Friday.
Instead, he said, an examination of the victim's wounds suggests that the attacking shark was eight to nine feet long and was more than likely a bull shark or tiger shark.
He said that although the lifeguard who attempted to rescue the kiteboarder saw several sharks nearby, only one shark bit the man. According to officials, there was a very deep and fatal bite to his thigh, a second bite to his buttocks, and a defensive wound to his hand.
Most shark attacks are hit-and-run
Most Florida shark bites are quick nips, like a hit-and-run, experts say. This attack was different.
"The attacking shark really meant business. This was not likely to be a mistaken-identity situation," Mr. Burgess said. "This was a shark that was attacking with some real meaning."
---