Slipping Dow rebounds to close above 10000 on unemployment report
After spending much of Friday below 10000, the market recovered lost ground amid positive news about unemployment. But the government-debt crisis in Greece is prompting investors to worry, again, about the health of the financial system.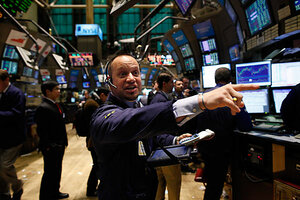 Brendan McDermid/Reuters
Investors capped a bad week by sending the stock market for a bumpy ride again Friday, amid new signs of global financial stress.
Worries about the government-debt crisis in Greece, and its potential ripple effects, sent share prices down for much of the day. But by the end of the day, the Dow Jones Industrial Average closed up slightly on positive news that the US unemployment rate fell to 9.7 percent.
The market action on Friday reflects a broader tug-of-war within investor hearts and minds.
The Dow spent much of the day below a psychologically important milestone of 10000.
Still, numerous signals seem to be flashing "buy" for stocks. Corporate profits are reviving. The job market, while not yet strong, is improving. And alternatives to stocks have their own risks, with bonds vulnerable to losses if interest rates rise and with cash earning negative returns against inflation.
However, investors have major doubts on at least two fronts. Their first question, fueled by the Greek crisis, is whether the financial crisis could flare up again, as investors take a hard look at both debt-strapped governments and at banking-indusry risks. A second and related question is whether the economy's recovery will be disappointingly weak.
The Standard & Poor's 500 index of US stocks is down about 8 percent over the past month. Overseas, a broad basket of non-US stocks is down even more – 14 percent.
"We think it is still too early to tell if the worst of the pullback [in stock prices] is over," investment strategists at S&P said in a Wednesday report. But they forecast 37 percent rise in corporate earnings this year, boding well for stocks looking forward.
---