Unemployment rate falls to 9.7 percent. Is job market improving?
Economists see some optimism in the unemployment rate as well as in other employment data. But overall, jobs are still being lost.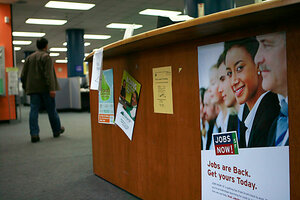 Robert Galbraith/Reuters
If you thought the job market has been a tougher nut to crack than anyone thought, you were right.
From March 2008 to April 2009, about 1 million more jobs were lost than were previously estimated, according to the Bureau of Labor Statistics, in an annual benchmark revision released Friday. This means that instead of shedding 7.2 million jobs, the economy actually lost 8.4 million jobs during that time period.
"The revision is more than any other revision I can recall," says Sung Won Sohn, a professor at the Smith School of Business & Economics, California State University at Channel Islands. "We've now lost more jobs than any other time since the Great Depression."
The revision was included in a report on employment numbers for January, which showed that the economy lost 20,000 jobs during the month. This was somewhat worse than expected.
However, the unemployment rate, which is determined by a different survey, fell to 9.7 percent in January from 10 percent in December, according to the Bureau of Labor Statistics.
Despite the loss of jobs, which was mainly in the construction sector, the January numbers indicate that the tone of the job market has been improving, economists say. Average hourly earnings rose, the average length of the workweek increased slightly, and more firms hired temporary workers, which is sometimes a prelude to permanent hiring.
---