Middletown explosion: was power plant blast caused by gas leak?
The Middletown explosion at an under-construction power plant in Connecticut may have been caused by a natural gas leak, according to officials. The blast is reported to have killed two people and injured several more.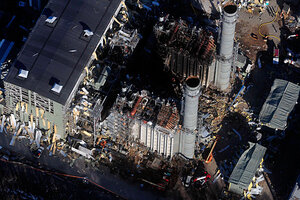 Bettina Hansen/The Hartford Courant/AP
A powerful explosion heard and felt miles away from the natural-gas power plant in Middletown, Conn., where it occurred Sunday morning may have killed at least two people and injured several more.
The explosion at the 620-megawatt plant, being built by Kleen Energy Systems LLC, may have been caused by a natural gas leak, according to a report in the Hartford Courant, the state's main newspaper.
Around 50 workers were in the section of the power plant where the explosion occurred at 11:37 a.m., blowing portions of the building away, Al Santostefano, Middletown's deputy fire marshal, told the Associated Press. Although the cause of the explosion is under investigation, Mr. Santostefano told the Courant the explosion was related to natural gas.
The explosion seems to have occurred when workers attempted a 'blow down' of natural gas pipelines, a procedure that involves the purging of gas from the pipelines, he said.
Workers were purging the pipelines when a wind caused a backdraft of gas which was ignited by nearby welding torches, according to Ed McKeon, posting on local news blog The Middletown Eye, who spoke to local officials at the plant site Sunday. He also reports that a local official said some houses in the vicinity of the plant have reported damage to foundations and walls.
Residents in homes up to 10 miles away heard the explosion and felt the vibrations from the shock, news reports said. Many thought there had been an earthquake.
---