Super Bowl: 10 things to watch
Will Dwight Freeney bound back? Will Terry Tate: Office Linebacker make an appearance? Here are 10 things to watch for in tonight's Super Bowl: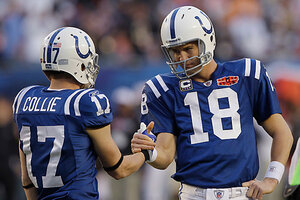 Mike Groll / AP
In two weeks, the world has heard a lot about Dwight Freeney's injured ankle but learned very little. The word "shootout" has been used 748,212 times to describe the prospects for Super Bowl XLIV. And we've been made to believe that a Super Bowl title might be met with some mild excitement in the French Quarter of New Orleans.

At last, when another day of media speculation would seem a violation of the Geneva Convention, the game between the New Orleans Saints and Indianapolis Colts is here.

As America sits down to queso dip and Doritos commercials, here is a cheat sheet to 10 key things to look for:

1. Saints rushing. The Saints are unquestionably quarterback Drew Brees's team. Yet statistics show that they are at their best offensively when they run the ball as much as they throw it.

When the Saints relied too much on the pass – passing the ball at least 10 times more than they ran it – they averaged 28 points per game. In their other games, they averaged 37 points per game. In a Super Bowl where the Saints could well have to score more than 30 points to win, the running game could be as important as the passing game.

2. A game, for once. It is not for nothing that the Super Bowl has become known for its advertisements. For many of its 44 years, the game itself has held far less drama than the question of who would win the Bud Bowl or whether Terry Tate: Office Linebacker would make another appearance.
---