Super Bowl rings: Drew Brees 1, Peyton Manning 1
For New Orleans Saints quarterback Drew Brees, defeat of Peyton Manning and the Indianapolis Colts in the Super Bowl confirms his place as one of the top quarterbacks in the game.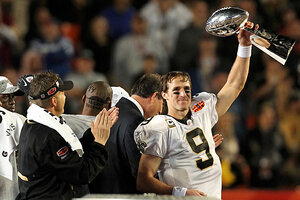 Scott Audette/Reuters
After the New Orleans Saints' 31-17 win over the Indianapolis Colts in Super Bowl XLIV, Drew Brees now has as many Super Bowl titles as Peyton Manning.
In many ways it is a crude comparison. By that measure, former New York Giant Jeff Hostetler – with his one Super Bowl – is Manning's equal and Dan Marino's superior.
But in this case, a Super Bowl title – and the manner in which he won it – puts Brees into that class of quarterbacks whose careers are typically accompanied by a bust at the Pro Football Hall of Fame in Canton, Ohio.
Media adoration is a fickle thing. At various points in this postseason, the Dallas Cowboys have been unstoppable, the New York Jets have been a team of destiny, and Manning has been ready to cement himself as one of the greatest quarterbacks of all time.
But that is the thing about the Super Bowl. To the winner goes adulation unabridged. There are no more games to temper the memory of the last master class, and in 2010, that distinction goes to Brees.
Super Bowl XLIV was a statue in celluloid – the image of everything that Brees has come to represent recorded on the reels of Super Bowl history: efficiency, accuracy, athleticism, and command. He was named the Super Bowl's Most Valuable player, completing 32 of 39 passes for 281 yards.
---