Michelle Obama says 'Let's Move' on obesity in American kids
Michelle Obama introduced the 'Let's Move' campaign to fight childhood obesity. It encourages more physical activity for kids, healthier meals in schools, and prominent food labeling.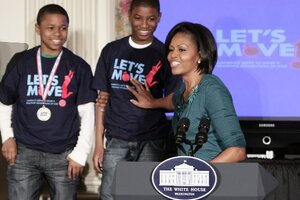 J. Scott Applewhite/AP
Michelle Obama on Tuesday announced a new nationwide "Let's Move" campaign to combat childhood obesity. But will it really help? Can Washington do anything about a complex problem that involves the individual food and exercise choices of millions of families across the US?
Absolutely, says one expert. Some federal policies, such as those that deal with agricultural subsidies or funding for parks, directly affect children's lifestyles, says James Sallis, director of Active Living Research, a nonprofit that studies causes of childhood obesity.
Plus, Mrs. Obama's access to the bully pulpit of the White House could raise national awareness of the issue, just as her South Lawn vegetable garden has promoted the virtues of fresh produce.
"I'm hoping her leadership, based on her experience as a mother, will create momentum, with a lot of groups working together in a way that will outlast the Obama administration," says Mr. Sallis.
More physical activity, healthier food
The Let's Move campaign will encourage more physical activity for children, healthier food in schools, and more visible food labeling, said Mrs. Obama at her afternoon announcement ceremony.
She recounted her own wake-up moment, after the birth of her own children, when a pediatrician pulled her aside and said there was perhaps a little too much junk in the Obama diet and she needed to do things a little differently.
"Many parents desperately want to do the right thing but they think the deck is stacked against them," she said.
---