Bernanke outlines 'exit' plan to extract Fed from safety net role
Chairman Ben Bernanke said Wednesday the Fed will tighten the money supply 'at some point.' That's one step in an exit plan to end the Fed's emergency supports to the economy after the financial crisis of 2008.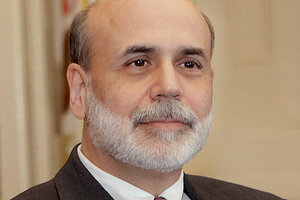 Pablo Martinez Monsivais/AP/File
The Fed is on the case. That's the message Ben Bernanke is trying to send regarding the Federal Reserve's ability to craft a successful "exit strategy" from its own emergency economic-support programs.
A snowstorm canceled a congressional hearing where Mr. Bernanke was set to appear Wednesday, but it didn't stop the Fed chairman from pushing the "send" button to publish his prepared remarks.
"At some point the Federal Reserve will need to tighten financial conditions," he warned, following extraordinary infusions of monetary support that the central bank has orchestrated since the severe financial crisis of 2008.
The need for an exit strategy has been a hot topic on Wall Street for months. The Fed must walk a fine line, shifting monetary policy forcefully enough to prevent a potential pickup in inflation while also being cautious not to withdraw monetary ease before the economy is able to grow on its own.
Bernanke sought to downplay investor concerns that the Fed won't find it easy to manage this process. He said the Fed has been "developing the tools we will need to remove policy accommodation, and we are fully confident that at the appropriate time we will be able to do so effectively."
The Fed's many tools of intervention
When the financial crisis hit, the Fed did a lot more than just cut interest rates. It also created new avenues to funnel credit to banks, and devised new debt-buying programs to support markets for mortgage loans and corporate loans. All this was intended to ensure that credit markets would unfreeze, and it worked. Where it has been easy, the Fed has already exited from some of these programs.
In his prepared statement, Bernanke outlined several tools the Fed may begin to use later this year:
• The Fed can boost the interest it pays to commercial banks on the reserves they hold at the Fed. Banks will be reluctant to lend to others at a rate lower than what they can earn with the Fed, so this tool is a way for the Fed to push up all short-term interest rates.
---