Google broadband: company to build 'ultra high-speed' network
Google announced plans Wednesday to built a high-speed fiber-optics network. The move is limited to small communities for now, but could eventually bring Internet prices down and transform the broadband industry.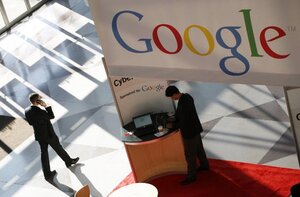 Mark Lennihan/AP
In a move that could alter the broadband business and continues its advance into telecom, Google announced plans Wednesday to build an "ultra high-speed," fiber-optics network for as many as 500,000 people.
The Mountain View, Calif., company, which already provides free wi-fi in its hometown, said it will offer connections with speeds of 1 gigabit per second – that's about 100 times faster than most home connections. It also plans on opening its fiber-optic network to third-party providers, potentially giving users multiple choices for their ISP, or Internet service provider, and increasing competition for broadband service.
Network will start in rural communities
Google is starting small – it's asking interested communities in the US to apply now. It has suggested on its official blog that it may focus on rural communities, which would fit with the Federal Communications Commission (FCC) plan to expand Internet access in under-served areas.
"The FCC's National Broadband Plan will build upon such private-sector initiatives and will include recommendations for facilitating and accelerating greater investment in broadband, creating jobs and increasing America's global competitiveness," said FCC chairman Julius Genachowski in a statement.
Google's proposed experiment also has advocates for a more open Internet cheering.
---