Illinois earthquake third to rattle upper Midwest since 1999
Wednesday's Illinois earthquake rated a 3.8 magnitude according to the US Geological Survey, and was the third mild temblor experienced in the region in recent years.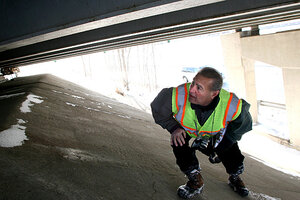 Corey Minkanic/AP
The earthquake that hit northwest Illinois early Wednesday morning was mild compared with those in California, experts say, but it did register as one of three the upper Midwest has experienced in the past 21 years.
The US Geological Survey rated the quake as a 3.8-magnitude about 5.5 miles east of Sycamore and 3.1 miles underground, which Northern Illinois University geologist Phil Carpenter says "is not really significant" compared with the West Coast, where quakes routinely are rated 5.0 and higher. Because the Midwest represents one of the most stable geological regions of North America, tremors are infrequent. And when they do happen, geologists are hard-pressed to come up with a reason why.
"We don't quite understand why this happens," says Mr. Carpenter. "They seem to move around from one location to another. Obviously, there is some release of stress due to zones that are fractured in the sub-surface, but we don't know about stress released by slippage in these zones. It's a good research problem."
---
Follow Stories Like This
Get the Monitor stories you care about delivered to your inbox.