Storm dumps snow on Mid-Atlantic, closing airports and government
With major airports and the federal government shut down, effects from this week's snow storm will linger beyond the time needed to dig out. The unemployed may be impacted by Congress' snow days, unless lawmakers are able to rush through a bill extending their benefits.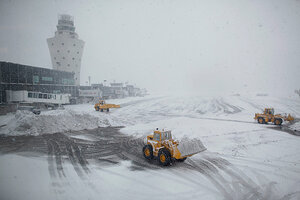 Chip East/REUTERS
The Eastern third of the nation is having another "B-day," as in blizzard, which is resulting in another "D-day," as in disruption.
The US House of Representatives was supposed to have hearings on the Haiti recovery, Toyota accelerator pedal problems, the Federal Reserve's exit strategy, and the dilemma facing Google over cyberhacking. All postponed because of the snow.
For the unemployed, it could be worse than just a missed hearing: Congress' snow days may cost the jobless a week or two of additional unemployment checks and COBRA coverage unless lawmakers can rush through a jobs bill.
Vice President Joseph Biden planned to make a major speech on the Obama administration's nuclear security agenda. The speech will now have to wait another week.
In Washington, Reagan National and Dulles airports were shut down Wednesday. And at airports all around the New York metro area, there are hundreds of cancelled flights, stranding thousands of travelers.
---