Harry Reid scales back Senate jobs bill, reflecting voter anger
Senate majority leader Harry Reid says he's focused on a leaner bill that will 'create jobs immediately.' He's also aware that voters are angry with the way government is working, particularly in terms of federal budget deficits.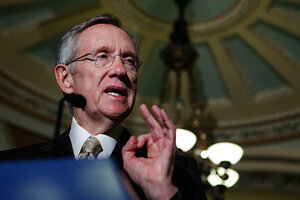 Manuel Balce Ceneta/AP
Senate majority leader Harry Reid said Thursday that he's focused on passing a smaller jobs bill than President Obama had hoped for.
Senator Reid's move, backed by fellow Democrats in the Senate, still raises the prospect that a jobs bill can pass the Senate this month – a top priority for President Obama.
But he rejected a larger bill outlined earlier Thursday by Democrat Max Baucus of Montana and Republican Charles Grassley of Iowa, senior members of the Senate Finance Committee. The shift in tactics signals that lawmakers are deeply aware of a restive electorate – wanting genuine job creation but also a closer watch on federal budget deficits.
Major differences with House bill
The Senate plan differs in significant ways from a House "Jobs for Main Street" bill passed in December. It is smaller and more focused on the private sector, rather than on direct spending by federal and state governments.
---