Snowfall in the East busting records, and more is on the way
Back-to-back storms have shattered snowfall records in many cities, but don't put away your shovels just yet. Forecasters are predicting more snow next week.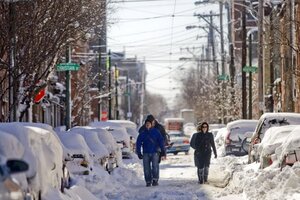 Jessica Kourkounis/AP
Winter's not even over, but it's already a season for the record books. Back-to-back storms shattered snowfall records in at least a dozen cities, including Philadelphia, Baltimore, and Washington.
Baltimore led the pack, breaking its record by the largest margin. Its seasonal snowfall total as of Thursday early morning was 79.9 inches, according to Marcie Katcher, spokeswoman for the National Weather Service. Its previous record was 62.5 inches, set in 1995-96.
Washington crushed its 121-year snowfall record Wednesday, with 55.9 inches measured at Reagan National Airport, according to the National Oceanic and Atmospheric Administration. It barely squeaked by, though. Its previous record was 54.4 inches.
Philadelphia also made history with its 71.6 inches. Its previous record was 65.5 inches, set in 1996.
---