Energysavers.gov offers cash for more-efficient appliances
Patterned after 'cash for clunkers,' the Energysavers.gov program has allocated $300 million in rebates for consumers who buy Energy Star-rated appliances.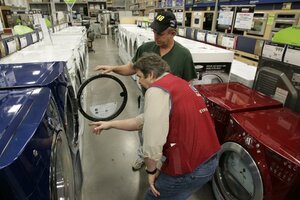 Danny Johnston/AP
In the market for a new washing machine? How about a refrigerator? Now's the time to buy, says Uncle Sam. The government is unveiling its latest version of "cash for clunkers," this time for energy-efficient kitchen appliances.
The Department of Energy recently allocated $300 million toward its Cash for Appliances program, which offers rebates for consumers who buy Energy Star-rated appliances – washing machines, refrigerators, dishwashers, and heating and cooling units. The program varies widely from state to state, but the goal is the same, says Jen Stutsman, spokeswoman with the Department of Energy.
"Our goal is to encourage consumers to transition to Energy Star appliances that will save both money and the environment in the long term," says Ms. Stutsman. "Appliances consume a huge amount of electricity, so there's enormous potential to both save energy and save families' money. We want to help make that transition to more efficiency."
Some states have started already
---
Follow Stories Like This
Get the Monitor stories you care about delivered to your inbox.