At least another week of 'upside-down winter' in US
Another winter storm is moving across the US Monday, but forecasters hope the worst of the season's storms will be over by the end of next week.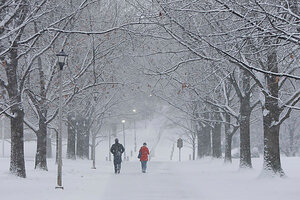 Charles Bertram/The Herald-Leader/AP
Forget Pennsylvania's Punxsutawney Phil or Nantucket's Quentin Quahog – a pampered clam whose prognostication consists of spitting in one of two directions, depending on how much longer winter will maintain its grip on the region.
With another winter storm moving through the eastern US today and taking aim at New England tonight, Accuweather forecaster Joe Lundberg is holding out hope that by the end of next week the worst of the season's storms may be over.
One more major blast of Arctic air is likely next week, turning storms moving across the country into snow and ice machines, he suggests on his blog.
"My thinking is that this will represent the high point (or low, depending upon your perspective) of this siege of cold that gets us to the end of the month," he writes.
The high point, or low point, comes none too soon.
Several southern states endured another bout of snow and ice today as a storm system moved across the eastern US and reached down into Alabama, Tennessee, and Kentucky. Atlanta braced for an additional 2 inches of snow, but by the time the storm arrived, the city got doused with rain instead.
---