Obama advances nuclear resurgence with US loan guarantees
In announcing $8.3 billion in loan guarantees for the first new nuclear reactors in the US in 30 years, Obama is setting the stage for a nuclear power comeback. But many challenges lie ahead.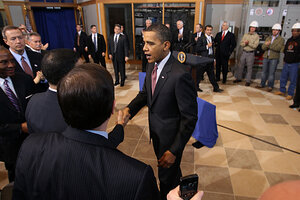 Newscom
President Obama announced Tuesday that his administration has agreed to provide an $8.3 billion loan guarantee for an Atlanta-based utility and its partners to build two new nuclear reactors at its Vogtle generating station near Augusta, Ga.
The announcement comes at a time when the administration is seeking to reduce America's dependence on fossil fuels – a critical step in combating global warming – and in an economic climate hungering for job creation.
The loan guarantee is conditional. It hinges on the utility, the Southern Co., receiving a license from the US Nuclear Regulatory Agency to build and operate the new reactors. Based on the current timeline, the utility expects to receive its license during the second half of 2011, says David Ratcliffe, its chairman and chief executive officer.
With an estimated construction cost of $14 billion, the new reactors would add a combined 2,200 megawatts of generating capacity to augment the two reactors that have been operating at the Vogtle nuclear plant since 1987 and 1989. These two reactors are rated at 1,100 megawatts apiece.
---