Westminster dog show 2010 results: Scottish Terrier 'Sadie'
At the Westminster dog show 2010, Scottish Terrier 'Sadie' took best in show. She's the eighth Scottie to win at Westminster.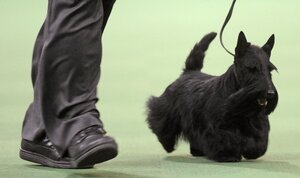 Henny Ray Abrams/AP
Here are your Westminster dog show 2010 results: Sadie the Scottish Terrier won best in show. She was heavily favored, but the pressure didn't get to her. She won anyway.
Sorry about that, Lindsey Jacobellis.
Who's Lindsey Jacobellis? She's the US snowboard athlete who once again failed to win an Olympic medal on Wednesday, despite being one of the sport's top athletes.
Sadie the Scottie peaked at the right time, trotting around the Westminster ring with aplomb, tail wagging and tongue out, in harmony with handler Gabriel Rangel.
Ms. Jacobellis, on the other hand, failed to even reach the snowboard cross final, as she went off course and nicked a gate. The flub brought back memories of the last Winter Olympics, in Turin, Italy where Jacobellis lost the gold at the last moment when she grabbed her board in a showboating move known as a "method," and caused herself to crash.
Well, the US still has Lindsey Vonn, the medal favorite skier. Her leg injury seems to be improving by the day.
---