Austin plane crash targeted IRS, officials say
The remains of the plane's pilot – believed to be Joseph Andrew Stack – have been recovered. Austin Police Chief Art Acevedo calls the attack "a criminal act by a lone individual."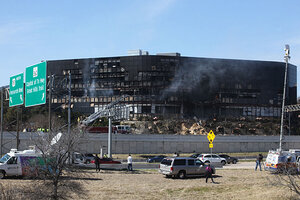 Newscom
The pilot who flew his small, single-engine airplane into an Austin, Tex., office building Thursday morning intentionally targeted federal government employees, according to law enforcement officials.
Authorities said Thursday evening that a body believed to be the pilot had been recovered from the charred seven-story building, which contains Internal Revenue Service offices. All indications are that the plane was flown by Joseph Andrew Stack, a 53-year-old software engineer from Austin with an apparent long-standing grudge against the IRS.
Even though Austin Police Chief Art Acevedo called the apparent attack on a federal office building "a criminal act by a lone individual," the scene of smoldering steel and crumbling concrete in suburban Austin drew immediate comparisons to the 1995 Oklahoma City bombing and 9/11, and has led many to call Thursday's crash an act of domestic terrorism.
This was a "deliberate and intentional attack against a federal building," said US Rep. Michael McCaul (R-Tex.) at a press conference. When asked by a reporter if he consider it terrorism, Representative McCaul said, "it sounds like it to me."
"The incident has "revealed a weakness we have been aware of since 9/11.... It's an issue that Congress definitely needs to look at," he said.
---