Mortgage fraud: Bloomberg, nonprofit try to raise awareness
New York Mayor Bloomberg and NeighborWorks rolled out a 'Loan Modification Scam Alert' on Thursday. The goal: to prevent yet more homeowners from falling victim to mortgage fraud.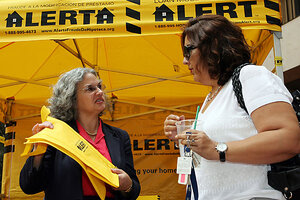 Jeffrey M. Boan/Ap/File
They pose as experts, guaranteeing they can stop a home foreclosure. They may promise they can get you to the head of the line, leapfrogging over the thousands of other people trying to renegotiate their mortgage with the bank. But most of all, they want money upfront.
These are mortgage scammers. And now, some national organizations, including the Federal Bureau of Investigation, are targeting them.
On Thursday in New York, one of the organizations that tries to steer homeowners to legitimate counselors teamed up with Mayor Michael Bloomberg to roll out a "Loan Modification Scam Alert." The goal: to prevent yet more people from giving money to financial predators. The nonprofit organization, NeighborWorks, has already tried to warn distressed homeowners in California, Florida, Texas, Ohio, and Maryland. California leads the nation in complaints about mortgage fraud.
"It is a rising problem, with more and more people every day calling to say they have been scammed," says Eileen Fitzgerald, chief operating officer of NeighborWorks. "Folks are desperate, and they are willing to try anything."
---