Alarm at Austin plane crash troubles pilots
Many in the general aviation community urge regulators not to overreact to Thursday's crash.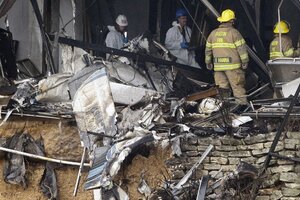 Tony Gutierrez/AP
The crash of a small civilian plane into the side of a government building is raising the hackles of general aviation pilots who fear the government will crack down on them in the name of national security.
Distressed over his financial situation and angry at the IRS, Joseph Stack flew his Piper Cherokee into the side of a building in Austin's Echelon office complex Thursday, killing himself and one other person. Mr. Stack appeared to be working alone and was not thought to be part of a broader terrorist or anti-government plot. And most experts agree no regulation or law would have prevented the incident.
Yet it was an obvious reminder of what thrust the US into the "war on terrorism" more than eight years ago. Some security analysts have already raised national security concerns about general aviation, pointing out that the incident reflects broad national vulnerabilities at the hands of individuals flying small planes with ill-intent.
Indeed, Rep. Mike McCaul, ranking Republican on a Homeland Security subcommittee, called the incident an act of terrorism, even as he recognized that it was not part of any organized plot.
---