IRS: a frequent target of antigovernment violence
Thursday's attack, in which Joseph Stack flew his plane into IRS offices in Austin, Texas, is just the latest in a string of attacks against the Internal Revenue Service. There are an average of 918 threats against employees a year, says a government agency.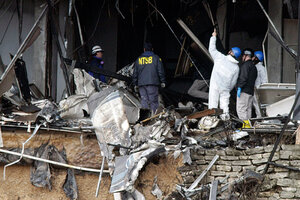 Jack Plunkett/AP
Thursday's attack on an Internal Revenue Service offices in Austin, Texas, is one incident in a string of violent threats and assaults directed toward the agency in recent years.
The Treasury Inspector General for Tax Administration (TIGTA), which oversees the IRS, handles an average of 918 threats made against IRS employees every year, according to the agency. Between 2001 and 2008, court cases resulting from those threats have resulted in 195 convictions, according to TIGTA.
"This is not something new," says J. Russell George, director of TIGTA. "The use of the airplane was unanticipated, but this is not something new, not at all."
Authorities say Joseph Stack, a software engineer, intentionally targeted IRS employees when he flew a small, single-engine plane into a seven-story building in Austin, Texas, containing IRS offices. Mr. Stack had a long-standing grudge against the IRS, which he outlined in a rambling online letter released before he crashed his plane.
The increased level of attacks likely come as a result of the depressed economy and the IRS's stepped up enforcement efforts, says Mr. George.
"It's a confluence of events," he says. "You have difficult economic times, you have an IRS commissioner who rightfully is stepping up efforts to enforce the tax code, and you literally have an environment in which people have elected to display their unhappiness in ways that are counterproductive."
---