Pennsylvania's state capital considers filing for bankruptcy
Harrisburg, Pa., is debating whether to declare Chapter 9 bankruptcy. As cities struggle to balance their budgets, more may consider the option.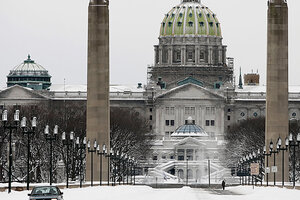 Chris Knight/The Patriot-News/AP
Over the next few weeks, many municipalities and states will be trying to hash out their budgets. It is clear that this is not going to be an easy task.
Already, the controller of Harrisburg, Pa., the state capital perched on the Susquehanna River, is talking about declaring Chapter 9 bankruptcy, which gives communities protection from creditors while trying to work out a debt payment plan. If the city goes ahead, it would be the first time since at least World War II that a state capital declared bankruptcy.
But for the most part, municipalities are likely to try to avoid this route. It involves lawsuits, the loss of access to the bond markets to fund their capital projects, and allowing a bankruptcy judge to make decisions normally the province of elected officials. Also, just the mention of the word "bankruptcy" by a public official sets off alarm bells for the bond-rating services.
"It will trigger a call and questions from us," says Richard Raphael, group managing director for public finance at Fitch Ratings in New York. "The consideration of it is a serious concern."
Mr. Raphael does not expect defaults on bonds to be widespread, but he adds, "There will be situations of severely distressed communities."
Most cities and states obtain their revenue from either property taxes or income taxes. During good times, there is a lag in the downturn in revenues. But during bad times, it works the other way.
---