Teen says school spied on him at home via school-issued laptop
Harriton High School in Pennsylvania gave laptops to all students. But when it appeared to use the webcam to monitor student behavior, it ran into a buzz saw of criticism, including a class-action lawsuit.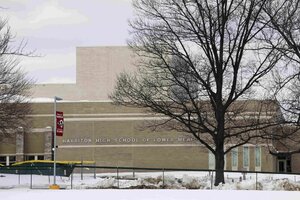 Matt Rourke/AP
A Pennsylvania high-schooler has accused school officials of spying on him at home by remotely activating his laptop webcam. The case has sparked a new flurry of attention to the legal and ethical issues swirling around technology and education.
Blake Robbins and his parents filed a class-action suit against the Lower Merion School District in Ardmore, Pa., alleging "indiscriminate remote activation of a webcam" and "intentional interception of ... private webcam images" by school officials.
The issue arose, the Feb. 11 lawsuit says, when Harriton High School assistant principal Lindy Matsko told Blake that he was suspected of engaging in improper behavior and that the evidence was an image from the webcam embedded in the school-issued laptop.
"If the facts are as they appear to be in the claims by the student, it's shocking," says John Palfrey, a law professor and co-director of the Berkman Center for Internet & Society at Harvard Law School.
---