Report: Rogue car acceleration is not just a Toyota problem
Toyota had the most driver complaints about rogue car acceleration over a five-year period. But other car makers, led by Ford, also had numerous complaints filed against them, reports Edmunds.com.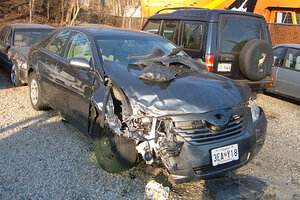 Business Wire
The challenge of the rogue gas pedal is apparently not unique to Toyota. In the five years ending last September, all of the six largest carmakers operating in the US marketplace had at least 50 complaints about unintended acceleration filed against them, according to Edmunds.com, a provider of auto industry information based in Santa Monica, Calif.
Toyota had the most complaints: 532 during the five-year period, or 4.81 per 100,000 vehicles sold by the company or its Lexis or Scion brands.
But some other carmakers also drew numerous complaints, according to the analysis of data from the National Highway Traffic Safety Administration (NHTSA):
• Ford drew 339 complaints about unruly gas pedals (3.12 per 100,000 vehicles sold).
• Chrysler had 156 complaints (1.72 per 100,000 vehicles).
• Honda had 89 complaints (1.26 per 100,000 vehicles).
• Nissan had 50 complaints (1.07 per 100,000 vehicles).
• General Motors had 134 complaints (0.81 per 100,000 vehicles).
---