Guns at Starbucks? Pushing the right to bear arms in public
Gun owners in California have been wearing their handguns in coffee shops and restaurants. The guns are unloaded and legal, but some citizens and police departments are wary.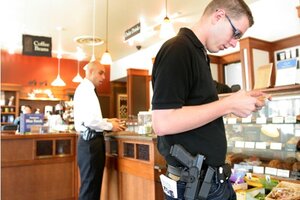 Newscom
Small groups of armed Californians have been turning up at cafes and coffee shops with handguns holstered to their belts to raise awareness about gun rights and what they call unfair limits on concealed weapon permits.
The loosely organized "Bay Area Open Carry Movement" will gather in the Presidio, a national park in San Francisco, on Saturday, just days after a new law took effect allowing weapons to be carried in national parks and wildlife refuges.
David LaTour, a student at San Jose State University, has been carrying his Springfield XD 9mm handgun on his hip for about a month now and plans on attending the event, in which gun rights advocates will be picking up trash in the park and, they hope, talking to anyone interested in state gun laws.
In Pictures: The debate over gun rights
California allows its citizens to openly display and carry unloaded weapons without a permit, but many gun advocates complain that the state is too restrictive when it comes to issuing licenses to carry concealed weapons.
"I looked into concealed carry permits, but unless you're well-connected it's impossible to obtain," says Mr. LaTour. However, he says, "I personally prefer open carry because of the visual deterrent." (Monitor report: "Cities' gun restrictions begin to topple")
Carrying unloaded guns is legal
---