Hawaii's tsunami warning: How the US is better prepared.
How has the US become better prepared to forecast tsunamis?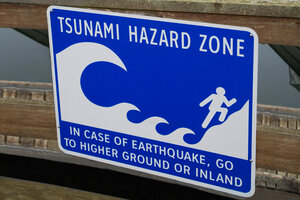 NEWSCOM/FILE
From Australia to Alaska, coastal communities throughout the Pacific basin are bracing for tsunamis generated by a powerful earthquake that struck the central Chilean Coast just after 3:30 a.m. local time Saturday.
The undersea quake, which hit magnitude 8.8, unleashed some 500 times the amount of energy released by the quake that struck Port-au-Prince, Haiti, on Jan. 12. The epicenter is not far from the site of a temblor in 1960 that – at magnitude 9.5 – remains the most powerful quake on record.
The stricken area along the Chilean coast reported tidal waves some six feet above normal surf levels.
IN PICTURES: Images from the 8.8 magnitude earthquake in Chile
Warnings have been posted for the Hawaiian islands, New Zealand, and for portions of Australia's east coast, among other locations. The US West Coast, British Columbia, and the Alaskan Coast are under tsunami advisories. So far, Japan has posted no advisories or warnings.
In Hawaii, forecasters aren't certain how high the waves will be when they reach the islands, but suggest they could be the largest tidal waves to hit the state since the Alaskan earthquake of 1964, when 12.5-foot waves struck Hilo.
---