Filmmaker's videos show the underlying bonds of humanity
Emmanuel Vaughan-Lee takes a lesson from his jazz background to make films about 'oneness.' Then he distributes them for free.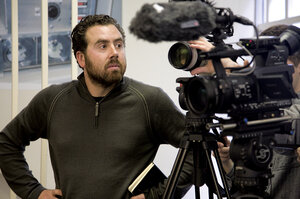 Paul Van Slambrouck
Point Reyes Station, Calif.
Emmanuel Vaughan-Lee discovered the power of "oneness" in jazz music. An accomplished bass player who was performing and teaching jazz by his mid-20s, he recalls with reverence those rare moments when an ensemble melds into something special that transcends the skills of the individual players.
For the past five years, Mr. Vaughan-Lee has put that concept of "oneness" into practice on a larger scale: The musician has become a filmmaker. He has traveled the world producing short films that, while honoring diversity, seek to demonstrate the underlying bonds of humanity. His Global Oneness Project was born in 2005, which just happened to position it perfectly for the explosion of video on the Web.
Supported by the Kalliopeia Foundation, Global Oneness has produced 27 films, ranging in length from three to 30 minutes. The topics range from an Australian aboriginal elder of the Yankunytjatjara nation explaining the unity of Earth and man to a middle-aged woman in Ecuador who has brought gang members into community service.
Some of the films are simple interviews. Others are more elaborate, with multiple characters and images that provide context. Laced through all of them is a theme of individuals who have committed their lives to connecting people, often to help solve chronic problems.
Films that give viewers a "how to" list of what to do about a particular problem sometimes irritate Vaughan-Lee. "Telling people what to do is missing the point," he says. Global Oneness is meant to inspire people to decide for themselves what steps make sense.
---