Obama still lighting up, but anti-smoking groups laud effort to quit
Anti-smoking advocates are trying to use Obama's cigarette struggles as an opportunity to send a message to Americans about quitting.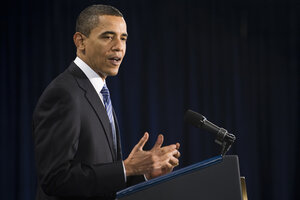 NEWSCOM
Despite President Obama's pledge to his wife and children to quit smoking, he apparently has yet to kick the habit.
Doctors reported that finding Sunday as part of Mr. Obama's first checkup as commander in chief.
Yet anti-smoking advocates view the president's cigarette struggles not so much as a setback, but rather as an opportunity to try to get more Americans to quit. And they place more importance on his desire to snuff out his tobacco usage than on his success in those efforts.
In particular, antitobacco advocates are using Obama's experience as a talking point for young people.
"The difficulty he has quitting should send a message to our nation's youth just how tough an addiction it can be once you start," says Matthew Myers, president of the Campaign for Tobacco-Free Kids in Washington.
If Obama does ultimately quit like millions of other Americans, this will be even better, antismoking advocates say.
---