US supports trade ban on bluefin tuna
The US government announced it will support a proposed ban on trade in Atlantic bluefin tuna.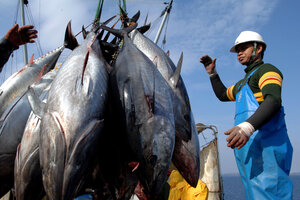 NEWSCOM/file
The US government announced Wednesday that it would support a proposed ban on international commercial trade in Atlantic bluefin tuna, whose succulent flesh has made it a delicacy worldwide, commanding tens of thousands of dollars per fish – and putting it at threat of extinction.
By supporting a trade ban without conditions, the United States takes a leadership role alongside tiny Monaco at a major international conference later this month. It is a crucial step that could conceivably result in giving Atlantic bluefin tuna the status of elephant ivory, whose international trade is also banned.
"In light of the serious compliance problems that have plagued the eastern Atlantic and Mediterranean fishery and the fact that the 2010 quota level adopted by ICCAT [the International Commission for the Conservation of Atlantic Tunas] is not as low as we believe is needed, the United States continues to have serious concerns about the long-term viability of either the fish or the fishery," Tom Strickland, assistant secretary of the interior for fish and wildlife and parks said in a statement.
The move was swiftly applauded by environmental groups.
"This is a huge boost to international efforts to save this species from extinction and retain a vital commercial fishery," said Mark Stevens, senior program officer for Fisheries Conservation for the World Wildlife Fund. "All countries should now back this ban and realize that it makes both conservation and commercial sense."
---