Utah fights for states' rights with land push
A bill passed last week that would give Utah the power to seize federal lands is meant to provoke a legal challenge on land and states' rights.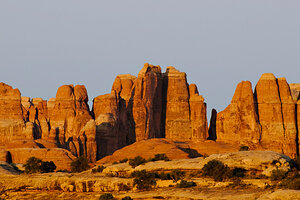 Newscom/File
In a move meant to provoke a legal challenge over limits placed on federally controlled land in Utah, lawmakers there passed a bill last week giving the state power to seize national forests and other federal lands for development.
The Utah House of Representatives overwhelming passed the bill that Republicans say will provide the cash-strapped state with much-needed tax revenues through increased oil and gas drilling.
While the lawmakers want to grab portions of the federal land, they are also looking to make a strong statement about states' rights and Utah's frustrations over having two-thirds of its land under federal authority.
Republican lawmaker Rep. Mike Noel called the bill "an act of self-preservation," according to the Salt Lake Tribune, and others have said the state has "sovereign" rights over all the land within its borders.
If the law is eventually passed, it will certainly meet swift legal challenges. And that's largely the point, say many Utah lawmakers, who want the issue argued in the US Supreme Court even though the court has ruled against states in similar cases.
Utah has long been at loggerheads with the federal government over land use, and at the forefront of pushing for states' rights.
---