Col. James Sabow: Pentagon shooter was obsessed with 1991 case
Pentagon shooter John Patrick Bedell was drawn to the 1991 case of Marine Corps Col. James Sabow. Investigators said the officer committed suicide, but others – including his brother – are sure he was murdered.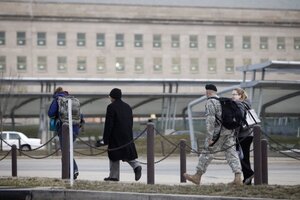 Jacquelyn Martin/AP
Pentagon shooter John Patrick Bedell was drawn to the case of a Marine Corps colonel who was found dead in his back yard in 1991 in a shooting that has intrigued conspiracy theorists for years.
The death of Col. James Sabow at the former El Toro Air Station in California was ruled a suicide in several investigations.
But Col. Sabow's brother, David, a respected neurologist in South Dakota, has long suspected
that the Marine Corps covered up the murder of James Sabow, pointing to several independent investigations that find holes in the government's findings.
With singular focus, David Sabow has attempted to reveal what he terms a cover-up, raising legitimate questions about his brother's death and the government's attempt to hide the truth. That has been embraced by conspiracy theorists, including Mr. Bedell, who reportedly believed that the facts in the Sabow case must come out, potentially opening the door to confirm other conspiracy theories.
Sabow's death tied to 9/11 conspiracy?
---