'Burma VJ,' harrowing tale of Burma protests, is Oscar contender
Documentary film 'Burma VJ' is about Democratic Voice of Burma and how it relayed images from the 2007 protests to the world. Aye Chan, the news organization's chief, speaks about his motives, the risks, and the Oscar-nominated movie.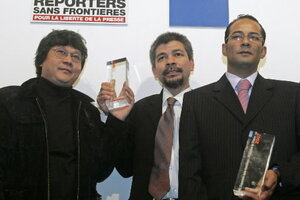 Michel Euler/AP/File
When Aye Chan attends the Academy Awards in Los Angeles on Sunday, it will be for his role as a director – not of a movie but of the exiled Burmese news agency that is the subject of one of this year's Best Documentary nominees.
Mr. Chan is executive director and chief editor at Democratic Voice of Burma, the Oslo-based news organization that disseminates news and images of Burma provided by underground journalist-citizens it trains to use small, hand-held video cameras.
"Burma VJ: Reporting From a Closed Country" is the story of DVB journalists who risked their lives to show the world the brutal repression wrought by the ruling generals during the uprising of September 2007.
In a broader sense, the documentary by Danish film director Anders Ostergaard shows how new technologies – from cellphones and video cameras to wireless communications and satellites – have transformed not only the act of newsgathering, but also the age-old confrontation between the politically oppressed and their oppressors.
---