California lawmaker would outlaw 'open carry' gun right
Gun owners have been meeting in coffee shops, parks, and restaurants wearing holstered weapons. California Assembly Member Lori Saldaña says 'open carry' of guns can create 'potentially dangerous situations.'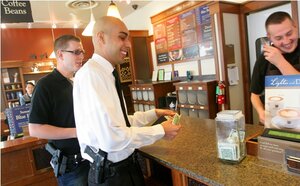 Newscom
A California lawmaker has stepped into a growing gun rights debate by introducing legislation that would essentially outlaw what's called the "open carry" of unloaded weapons on public property.
The measure, which was first introduced last month but is not expected to have its first hearing until April, is meant to address the growing "open carry" movement, in which some gun owners have taken to meeting in coffee shops, parks, and restaurants while wearing holstered weapons to raise awareness about gun rights.
"People should be free from the fear and the potential for violence firearms represent," said Democratic Assembly Member Lori Saldaña of San Diego, in a statement. "These displays of firearms can create potentially dangerous situations."
IN PICTURES: States with the strictest gun laws
Assembly Member Saldaña said she was compelled to introduce the bill to limit the open carry law in California, which is one of at least 38 states that allows the display of unconcealed weapons, following a gathering of some 60 armed open carry advocates at a southern California beach.
"People were understandably concerned," she said. "The police were called and the situation became frightening for the families simply enjoying a day at the beach."
In recent months, members of the grass-roots open carry movement have been turning up at many Bay Area cafes. In addition to bringing attention to gun laws, which allow unconcealed and unloaded weapons to be carried without a permit, the groups are also making a statement about the difficulty of obtaining concealed weapons permits.
In a Monitor interview last month, Bay Area open carry advocate David LaTour said that unless someone is "well connected" politically, concealed weapons permits are essentially unobtainable.
---