Lehman Bros. used accounting trick amid financial crisis – and earlier
Failed investment bank Lehman Bros. used an accounting trick at the end of each quarter to make its finances appear less shaky than they really were, says a report from an examiner.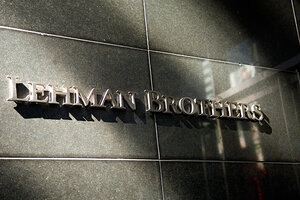 Frances M. Roberts/Newscom/File
Lehman Brothers was playing loose with its accounting even before the financial crisis put the investment bank under intense pressure to reassure its investors, according a report this week from a court-appointed examiner.
The report details how Lehman regalarly used an unusual accounting gimmick at the end of each quarter to make its finances appear less shaky than they really were.
The practice was called Repo 105, a type of repurchase agreement (or "repo" deal) that temporarily removed securities from Lehman's balance sheet. Unlike typical agreements for a repurchase, a Repo 105 deal would be characterized by Lehman as an outright sale of securities. This, according to the examiner's report, created "a materially misleading picture of the firm's financial condition in late 2007 and 2008."
And it used the ploy well before then.
"Lehman first introduced its Repo 105 program in approximately 2001," the report says. "Unable to find a United States law firm that would provide it with an opinion letter permitting the true sale accounting treatment under United States law, Lehman conducted its Repo 105 program under the aegis of an opinion letter [by a British law firm] ... under English law."
New legal liability for Lehman officers?
The examiner's report – part of Lehman's ongoing bankrtupcty case – could result in new legal liability for former officials at the firm, but it's not clear that will happen. The examiner who wrote the report, Anton Valukas, simply labeled certain actions he reviewed as "colorable," meaning he believes the evidence would "support a finding by a trier of fact."
---