Do airport full body scanners violate Islam?
As full body scanners make their O'Hare Airport debut Monday, two groups say the devices – which image a person's body – are immodest, and therefore are inconsistent with Islam.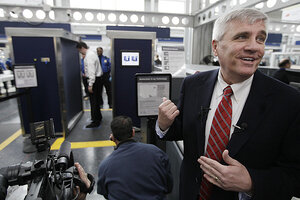 M. Spencer Green/AP
As full body scanners debut at O'Hare International Airport Monday, two American Muslim groups have suggested that the technology violates the teachings of Islam.
The comments are just the latest controversy surrounding full-body scanners, which some critics call a "virtual strip search" because the technology sees through clothing to show the contours of a passenger's body in detail.
The Transportation Security Administration (TSA) has deployed 150 scanners across 21 US airports this month, partly in response to the failed Christmas Day bombing of a Detroit-bound jetliner, where bombmaking materials were hidden in a passenger's underwear – something full-body scanners would have seen.
The TSA expects to install an additional 300 scanners in nine additional airports by the end of this year. But security officials say they will be able to accommodate the wishes of passengers – Muslim or otherwise – who object to the full-body screener.
---