Asian carp: how one fish could ruin the Great Lakes
The Asian carp has gobbled up headlines as it makes its way toward the Great Lakes. Six frequently asked questions about the invasive species of fish.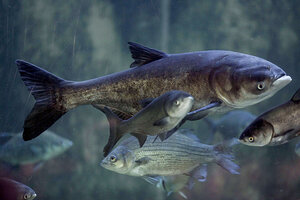 AP
The Asian carp's presence is highly contentious in the Midwest, with ramifications that could affect the economy as well as the environment. Here's a primer on the Asian carp and why this invasive species poses such a threat to the Great Lakes ecosystem.
What is the Asian carp?
It's a collective term that describes four species of fish that originated in China but have shown up in the United States: the silver, bighead, grass, and black carp. The bighead and silver carp are the ones that have made their way to the front door of the Great Lakes system.
Grass and black carp can be found farther south, in the Mississippi River. But "they're not knocking at the door [of Lake Michigan] yet," says Jennifer Nalbone, director of navigation and invasive species for Great Lakes United, a coalition of advocacy groups.
IN PICTURES: The 20 weirdest fish in the ocean
What makes the Asian carp such a threat to ecosystems?
"Successful invasive species do a few things well: They eat a lot and they reproduce quickly," says Ms. Nalbone.
That describes Asian carp precisely. Its stomach lets a tremendous amount of food pass through rapidly, allowing the bighead, for example, to grow as big as 60 inches long and 110 pounds.
---