Exclusive Masters fits Tiger Woods return to a tee
For a paparazzi-hounded Tiger Woods, there couldn't be a better place to return from scandal than the genteel and oh-so-private bastion of the Masters' Augusta National Golf Club.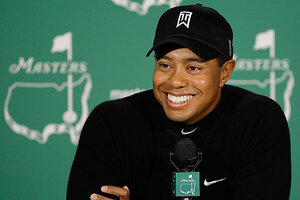 Chris O'Meara/AP/FILE
Tiger Woods announced Tuesday that he will return to the top duffing ranks Apr. 8 at Augusta National for this year's Masters tourney.
The Masters, of course, is the pinnacle of the American golfing calendar, possessing the power, perhaps, to regenerate a career interrupted mid-swing by fiasco.
Perhaps more to the point, however, is that Augusta National is the Shangri-La of the golf world, near impregnable to all but the exclusive and initiated, giving Mr. Woods the perfect place to reenter the sport without catcalls from the gallery or paparazzi lurking behind the 18th green.
IN PICTURES: Tiger Woods through the years
In short, Mr. Woods' choice of Augusta will allow the embattled billionaire golfer a soft landing for his return to golf after a four-month hiatus as he dealt with the fallout from admitted infidelities.
"Augusta is one place in the world that you can really have control, and they will control everything from the crowds to the situation that will be facing Tiger," golf great Arnold Palmer told the PGA website.
Added columnist Nick Pugliese at Gazette Online: "Utter even so much as an anti-Tiger peep at Augusta National and it's your head that will be lopped off as well as your Masters ticket. Forever."
---