Was LA earthquake a precursor to the 'Big One'?
The 4.4 magnitude LA earthquake rattled the city Tuesday morning. Experts say it is impossible to tell whether small quakes are a sign that other bigger ones may follow.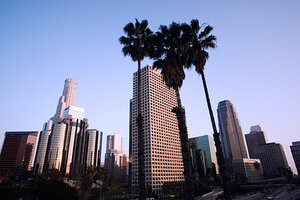 Newscom
The magnitude 4.4 earthquake centered about 10 miles southeast of downtown Los Angeles early Tuesday morning was typical for Southern California, very much in the range of those occurring every couple of months on average, say earthquake experts.
"The only thing remarkable about today's quake is that it occurred in a highly populated area, woke up millions of people, and attracted a lot of news media attention," says Kate Hutton, staff seismologist at Caltech Seismological Laboratory.
The big question being bandied about by media organizations and bloggers is whether the quake, which hit just after 4 a.m. local time, is a sign that the "Big One" is coming. That seems to be a matter of opinion. Some say that because energy has been released, the chances of a mega-quake are less, because pressure has been released. Others say that seismic activity "stutters along" and therefore may signal bigger activity to come.
"No one can predict these bigger quakes," says Frank Galgano, chair of the department of geography and the environment at Villanova University in Villanova, Pa., "even people studying it for their whole lives." The Indian Ocean quake that caused a giant tsunami in 2004, for instance, had no warning, Mr. Galgano says. A sudden, 55 ft. vertical shift happened in the ocean floor that sent waves crashing as far away as Indonesia, India and Africa. His opinion is that Tuesday's activity is a sign that the chances are better than not that another one is close behind. But he cautions that, "it's just too hard to really say."
---
Follow Stories Like This
Get the Monitor stories you care about delivered to your inbox.